Assalamualaikum wbt
Puan tini buat giveway lagik!
Jom join sama-sama.
Kita semarakkan lagi Hari Buku Sedunia :)
Cara-caranya adalah :
1. Letak banner giveaway di blog anda. Di mana-manalah, tepi kanan, kiri, atas, bawah. Asal mudah orang nak nampak.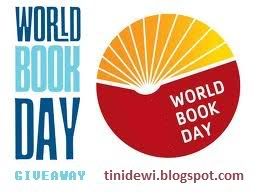 Copy this code to your website to display this banner!

2. Tulis satu entri berkenaan giveaway ini. Pendek ciput kontot pun boleh. Asal ada.
3. Maklumkan saya penyertaan anda melalui ruang komen di entri ini.
Giveaway berakhir 30 April 2011, jam 11.59 malam. Pemenang ditentukan menggunakan kaedah algorithma melalui www.random.org. Selamat mencuba!